The reality is that Netrobe, Cloth, and Clothia are all completely different fashion apps for different purposes. They have some overlapping features, but which one(s) you use all depends on what you're looking to accomplish with your choice.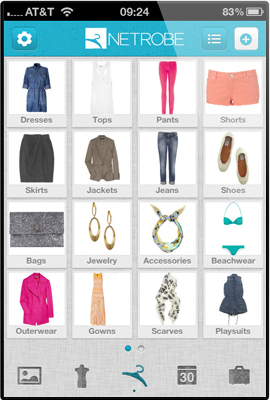 Netrobe (free)
Netrobe is a true "closet management" app. The main feature is to add photos of your clothing, shoes, and accessories, sort them into categories you choose, and create outfits from them. The interface is very simple and straightforward, with big plus sign icons to add items, clearly labeled text areas to type additional details, and icons along the bottom that go to each major section of the app.
A Lookbook allows you to keep track of outfits you've worn, the Styleboard displays outfits you've put together from your closet, the main Netrobe screen houses photos of individual items you own, the Agenda allows you to assign items from your Styleboard to particular days, and Suitcase allows you to add items from your Netrobe.
Netrobe offers some photo editing to remove the backgrounds from your garment pictures – this will only work well for you if you use a solid, contrasting color background when you take your photos. That's too time consuming for me so I just keep the backgrounds in.
I think it would be great if you could pick items from the Lookbook for the Agenda as well – I may want to wear an outfit that worked well for me in the past again. Also, I would like to add items from my Lookbook or Styleboard (complete outfits) to my Suitcase and have the individual Netrobe items automatically appear.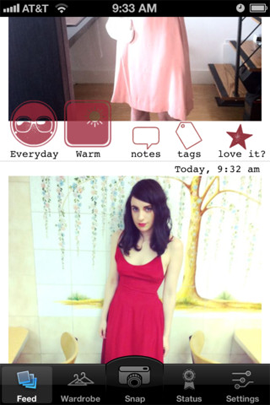 Cloth (free, paid version available)
Cloth is mainly an outfit of the day logging app. You can take pictures of what you're wearing and place them in a series of preset categories, share, and add notes and tags. You can also view your friends' outfit feeds. One review I read described Cloth as Instagram for fashion.
Cloth gamifies the app by offering all sorts of badges you can earn through certain actions – adding pictures, posting on Twitter, etc.
In a way I would like to be able to create my own categories, but from a developer perspective I can understand why those are preset, and the app does allow free-form tags to add more detail to pics.
A weather feature has recently been added, which pulls real time weather data from Wunderground and makes suggestions on what to wear. This is a very cool feature but is a paid upgrade.
Clothia (free)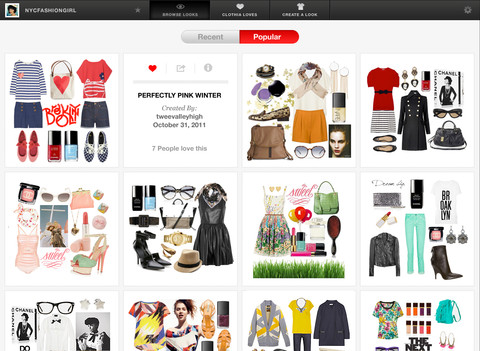 Clothia has a beautiful full screen user interface on the iPad that took a few extra seconds to load for me the first time. It only works in landscape mode. The interface is a bit less intuitive than the other two – it's not always 100% obvious how to get to the next step.
This app is a lot like Polyvore in app form. Once you get past the intro screens, you are presented with a screen full of user-created looks that are exactly like those you can create in Polyvore.
The difference here is that you can mix and match pictures you've taken of your own clothing with clothing in their retailer database and items you've clipped from the web. This would be a great addition to Netrobe. I like having the option to plan purchases around what I already have, and Clothia makes the process seamless by allowing in-app purchasing.
Clothia includes a blog of outfit photos along with a list of each item included in the looks – I think they're missing an opportunity here by not allowing users to purchase directly from these images or lists. As it is currently, I have to copy/paste or type the item into a browser to purchase it, potentially forgetting about the app and foregoing affiliate revenue they could have generated.
This app has an online component which you can sign into after registering via the app. I'm not sure what the invitation form displayed on the website is for, since you would already have an account at this point. Also, it seems that you can only upload your own clothing items via the website which is odd. When I first signed into the website I saw the items I had added via the app, but the updates I made via the web interface have not appeared in the app.
Overall, Clothia is a robust, full featured and interesting app but although the interface is beautiful some of the features are buried and not intuitive. It's buggy – saving looks sometimes didn't work, clipped images from the web sometimes got distorted, and the virtual fitting room feature doesn't work very well at least in Chrome. The website and app aren't integrated tightly enough, which makes the experience of using both a bit clunky and disjointed. This is offered as a beta product so some issues are expected.
Feature Comparison Overview
| | | | |
| --- | --- | --- | --- |
| | Netrobe | Cloth | Clothia |
| Share (social media / email) | | | |
| Keep track of outfits I've worn | | | |
| Create looks | | | |
| Catalog items I own | | | |
| Plan outfits for specific events/dates | | | |
| Plan wardrobe for travel | | | |
| Gamification (points, badges, etc) | | | |
| Weather | | | |
| Catalog items I want to buy | | | |
| In-app purchasing | | | |
| In-app blog | | | |
| Web interface | | | |
| Virtrual fitting room | | | |
As for me, I will probably use Netrobe most, followed by Clothia, simply because of the way the features fit my lifestyle. I like being able to create outfits with items I already own, plan what I'll wear ahead of time, and the travel wardrobe planner is just genius. In the past, I've written down my outfits for each day on little slips of paper that I place between each outfit in my suitcase…perhaps a bit much for some but I'm a planner and that's how I roll.
I may continue to use Cloth for testing purposes, but the features I am most interested in are already covered by Netrobe. The weather integration is an interesting addition, but not one I'm willing to pay for and it's not enough to add it to my regular rotation.
Another note about Netrobe – I tweeted that I was checking out their app as well as Cloth's, and they quickly engaged me in a conversation about how the app was working for me. Thumbs up for their attentiveness to their users on social media.
Have you tried any of these apps? Which is your favorite?