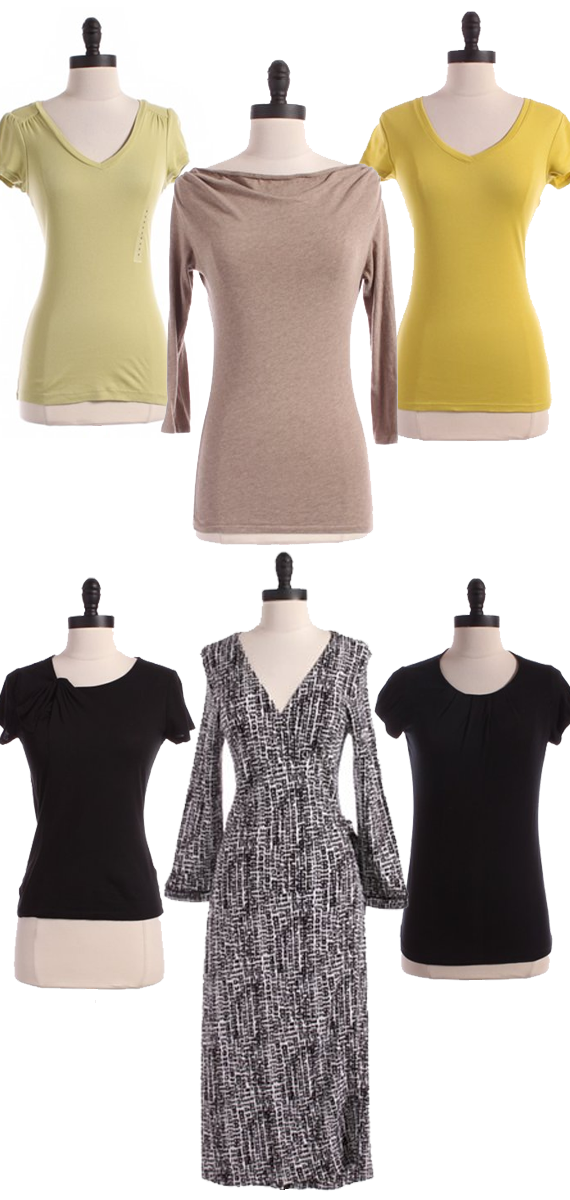 How much do you think all of the above items cost me? Four of the items, including the dress are from Banana Republic. One is from Ann Taylor and one from Gap. Take a guess and read on to find out if you're right!

I recently read an article about liketwice.com and decided to give it a try. I love shopping at thrift, consignment and secondhand shops, and have been looking for an online option for some time. Most of the online secondhand stores I've looked at use the eBay model, with individuals selecting, posting and shipping their items.
This leads to wild inconsistency in the quality of the items, the clarity of the information provided, and the shipping process, not to mention a good number of awful pictures that make it difficult to make a decision. Although I love the thrill of thrifting in real life, I don't enjoy digging through page upon page of junk online in search of the good stuff.
Enter liketwice.com. Twice works like Buffalo Exchange or Plato's Closet – buyers at the company sift through items sent in by would-be sellers, and choose only certain name brand pieces in good condition. They take professional quality photos of everything, and post the details in a consistent format. Some items are new with tags, and all are heavily discounted.
So, here's how much I paid…
I purchased all of the items in the image above for…$50.40. The original total came to $63, and came with free shipping as it was above $49. Before completing my checkout, I hopped over to one of my most favorite sites, Retail Me Not, and scored a 20% off discount code. The breakdown, clockwise from top: Banana Republic Green Tee, $7; Gap Tan Tee, $10; Ann Taylor "Yellow" Tee, $8; Banana Republic Black Bow Detail Tee, $10; Banana Republic Black and White Dress, $19; Banana Republic Black Pleated Tee, $9.
Two of the tees were new with tags, and five out of six of them are in like-new condition. The dress has a small stain that is visible if you really, really look for it. Also, the yellow tshirt I picked is totally not yellow. It's green, which is fine except that I wanted two different colors. I kept it anyway.
So far, this has been my favorite online second hand shopping experience. Definitely recommend checking it out.
Do you shop secondhand online? What are your favorite sites?